An expansive lower-ground level home with wonderful enclosed garden, three parking spaces and secondary living quarters.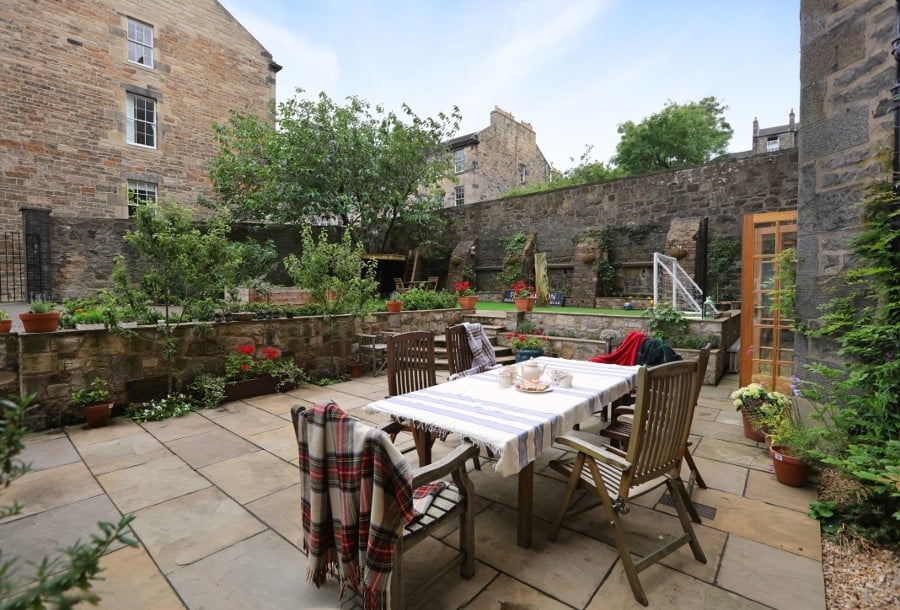 Availability
Book Now
Dundas Garden Home is a wonderful New Town haven, converted from a hotel back to a family flat a few years ago while retaining many period features. Dundas Street is within easy walking distance of Edinburgh's epicentre, making it ideally situated for sightseeing and attending Festival shows.
Entry to the apartment is via the gate to the fabulous enclosed garden with space for three cars, lined with flowers which add a motley splash of colour and vibrancy. A tree-platform at one end is perfect for picnics under the sun, but there's also a coffee table and two chairs underneath, and for more formal meals outdoors, a wooden dining table with seating for six on the patio.
French doors lead in to the expansive kitchen-cum-dining room with seating for 10. This room boasts an impressive array of facilities including a range cooker and double oven, a large fridge-freezer, microwave, and an abundance of cutlery, crockery and glassware. The generous capacity both here and on the patio, plus the extensive catering facilities, means the flat is ideal for meeting friends and entertaining over the Festival. An enormous mounted feature mirror amplifies the space even further. The extensive utility room alongside also admits to the garden and its windows and skylights brighten the space. It houses a washing machine, tumble dryer, clothes horse and pulley, with an ironing board tucked behind the door. There's ample storage space for clothing and a selection of kids' toys is also available for them to play with in the garden, within view of the kitchen.
The kitchen-cum-dining room opens out on to the landing. To your immediate left you'll find the utility closet containing the Wi-Fi router and the industrial boiler, capable of supplying all guests with hot water simultaneously. Next along is the first of the apartment's bathrooms, with a shower over the extra-long bath bearing original Georgian taps. Decorated in a distinctive green and cream palette, this room features some breath-taking landscape paintings, including of Edinburgh Castle and Ben Nevis. Please note that bubble bath can't be used as the tub has been resurfaced.
A lobby adjoining the left of the landing connects a host of other main rooms. At the top is the grand master bedroom. This area is well-appointed with a bedside table, chest of drawers, rocking chair and fitted wardrobe in addition to the extra-long (6' 9") king size bed. In common with most of the property's rooms, there's a shuttered window with blackout blinds. Impressionistic paintings enliven the walls, while the restored Georgian cornicing and decorative original hearth hearken back to the apartment's history. An additional single bed is available here.
The Victorian bathroom successfully merges the traditional and modern with its roll top period slipper bath, bidet and super-power shower. This room has a similarly soothing palette to its counterpart across the hall. It admits to the apartment's second bedroom, a twin room with bureaux and fitted wardrobe.
At the left end of the property you'll find the living room with clavinova, three-seater sofa and additional seating for three, plus two wooden infants' high chairs. The room features a decorative wood-burning stove and adjustable internet-enabled Samsung flat screen TV, making for a cosy entertainment and relaxation area. Like the kitchen-cum-dining room on the other side of the hall, it admits to the patio and garden.
From the top of the landing you can reach the secondary quarters, comprising a twin room with zip-and-link beds plus fitted wardrobe, ensuite shower room, and a living-cum-dining area with kitchenette. The kitchenette has a microwave, dishwasher, and cooker, and is situated behind the sofa, flat screen TV, and dining table for two. Just inside there's also a utility closet with washing machine, clothes horse, iron and ironing board, and a pulley. A short hallway leads to a garden-level patio with a wooden coffee table and seating for two.
With all this space and amenities to offer, plus a standout location and authentic New Town character, Dundas Garden Home serves as a superb base for your Edinburgh experience.
Share
Facilities
Availability
Book Now
Rental Prices