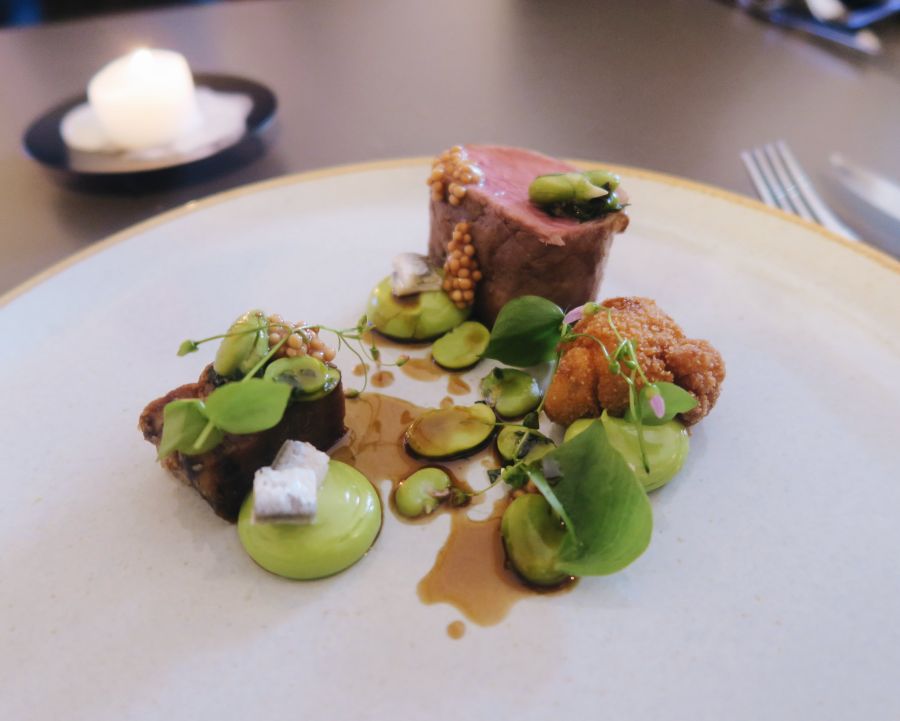 Our round-up of Edinburgh's best romantic restaurants for Valentine's day.
It's that time of year again and St Valentine has us all wondering how best to surprise our significant other (or how best to attract one perhaps). Either way, whether you're an Edinburgh local or planning a trip to this most romantic of cities, our list of Edinburgh's best romantic restaurants should keep you right on the best places to treat your loved one to an intimate Valentine's dinner… or just treat yourself to a slap-up meal, no-one here's judging.
Aizle
One of Edinburgh's newer fine dining haunts, Aizle (meaning "a glowing ember" in scots gallic… we're not sure either) has been receiving rave reviews since opening its doors in 2014. Chef and Owner Stuart Ralston uses only the best and freshest seasonal produce and what can be made "in-house" duly is… from churning their own butter and distilling their own aquavit to fermenting their own kombucha. There is no traditional menu to speak of just a constantly changing six-course taster menu, so perhaps not one for fussy eaters. However, gourmands have little to fear as any foodie worth their salt is sure to enjoy every mouthful.
The Tower Restaurant
The Tower Restaurant sits atop Edinburgh's celebrated Chambers Street museum and offers eye-level views of the city's eponymous Castle (best enjoyed from the terrace, though this might be a questionable notion in February!). A hot-spot for Valentine's day, reservations are likely to be few and far between, however, if all else fails a walk around the Chambers street museum could prove a fitting Valentine's day jolly.
Thinking of taking a romantic break in Edinburgh? We've got apartments just down the road from the tower restaurant.
Rhubarb
Nestled in the stately surrounds of Prestonfield House Hotel, Rhubarb is all about the sense of occasion. The long drive and manicured Gardens offer a deceptively rural air, a sense that is compounded by the sight of wild peacocks patrolling the grounds. Inside the 17th-century building, things get grander still as guests are presented with two fabulously ornate, almost gothic dining rooms clad in velvet and gold leaf (It may sound a bit much but this is Valentine's day after all). Suffice to say the food's quite nice too!
The Kitchin
Michlin starred "The Kitchin" opened its doors in 2006 under (probably) Scotland's most notable celebrity chef, Tom Kitchin. Situated in a converted whisky warehouse, the Kitchen has been honoured with some of the UK's most prestigious restaurant awards, including "best restaurant in Scotland", "best restaurant in the UK" and " best restaurant experience" to name a few.
Tom employs French, fine-dining techniques combined with seasonal Scottish produce to great effect and any breakdown of Edinburgh's best romantic restaurants would be incomplete without a mention of Tom's flagship establishment.
Castle Terrace
Sister restaurant to The Kitchen, Castle Terrace along with Chef Patron Dominic Jack (a long-time friend of the aforementioned Tom Kitchin) have been delighting Edinburgh foodies since 2010. Much like The Kitchin, the Castle Terrace mantra is concerned with representing the finest produce that Scotland has to offer.
Tempted by a weekend in Edinburgh? We've got Apartments all across the city centre. Like our Usher Hall Views apartment just around the corner from Castle Terrace.
Purslane
Billing itself as casual fine dining, Purslane is nevertheless an ideal destination for a romantic night out. Situated on St Stephen Street in Edinburgh's Stockbridge area, the restaurant is nestled in a cosy basement and boasts an ever-changing seasonal menu as well as a choice of 5 or 7-course taster menus.
Fancy a romantic trip to Edinburgh this Valentine's Day? Why not try one of our Stockbridge apartments just up the road from Purslane?
Forage and chatter
Situated on Alva Street in Edinburgh's West end, "Forage and Chatter" is swiftly making a name for itself as one of Edinburgh's hottest fine-dining establishments. Perhaps a little nondescript from the exterior, a short step inside will reveal that this cosy, welcoming and beautifully furnished little eatery ticks all the boxes as one of Edinburgh's most enticing romantic restaurants.
Planning a romantic trip to Edinburgh? Try one of our West End Apartments just a stone's throw from Forage and chatter.
Angels with bagpipes
Since opening its doors in 2010, the unashamedly chic Angels with Bagpipes has been delighting visitors with the freshest seasonal produce from Scotland's natural larder. For an extra dose of romance, guests can even book the "Halo Room", a private dining room for two to four people… and fear not, the bagpipes remain silent.
Considering a Valentine's-day break in Edinburgh? Why not try one of our Royal Mile apartments just over the road from Angels and Bagpipes?
So there you have it, our round-up of Edinburgh's best romantic restaurants, and if you need a place to stay we've got you covered, just visit our website.
Share