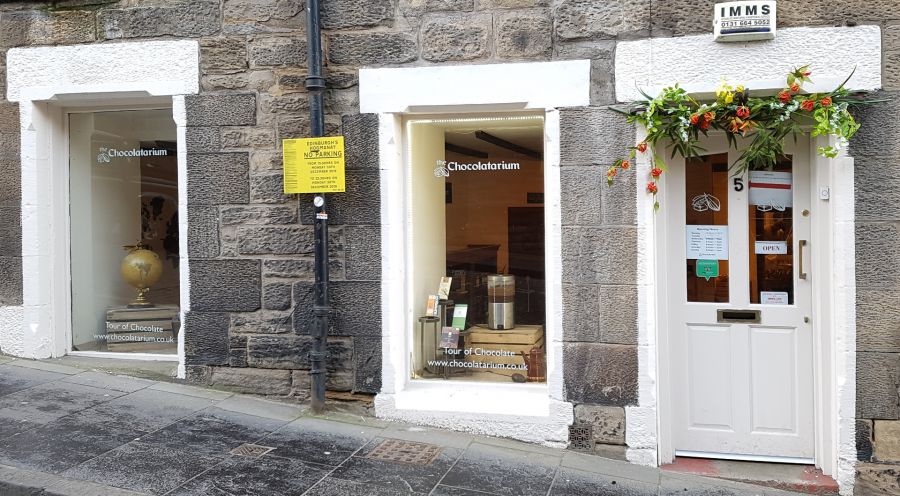 Where to buy chocolate in Edinburgh
Chocolate is entwined with a number of special occasions in the United Kingdom – principally Valentine's Day but also Easter, Christmas, anniversaries, birthdays and other special occasions. The gifting of chocolate on Valentine's Day was conceived in the 19th century by Richard Cadbury, whose name is synonymous with chocolate across the UK. For that reason, a truly memorable chocolate experience goes further than a bar of Dairy Milk and Edinburgh has a wealth of artisanal chocolate shops, cafes and attractions catering to all tastes and dietary requirements (even vegan). See our roundup of chocolate- themed establishments in the city centre below.
The Chocolatarium, 3 – 5 Cranston Street
Why not go on a chocolate-making experience? The newest attraction on this list offers 90-minute guided chocolate tours in its Old Town premises adapted from a former escape room. Inspired by her work on South American cocoa plantations, the owner and tour guide resolved to put authenticity at the core of her venture and the result is an educational and interactive experience serving as a great gift and memory for chocoholics. Learn about, make and taste chocolate from all over the world in a nut-free environment, with vegan options available throughout. As a neat little extra, you can also present a gift voucher for the tour in the style of Willy Wonka's golden ticket!
Coro the Chocolate Cafe, 13 Frederick Street
This speciality café lives up to its name with its chocolate-themed menu for breakfast and brunch, including crepes, cakes, waffles, pancakes, milkshakes and other sweet treats. The venue also offers savoury options and allows you to create your own desserts so is a safe choice even for non-chocolate lovers. If this somehow fails to satisfy your sweet-tooth, you needn't dismay as you have a Thorntons with a chocolate fountain as your backup option right underneath!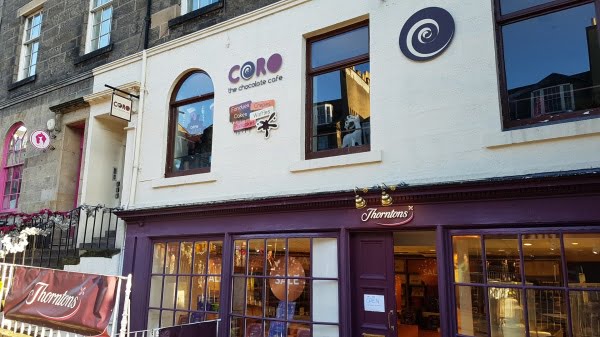 Chocolate Lounge in Harvey Nichols, 30 – 34 St Andrew Square
Found on the fourth floor of Scotland's only Harvey Nichols store on the exclusive retail street of Multrees Walk, the chocolate lounge is equal parts cafe, ice cream parlour and 'choctail' bar. With Harvey Nichols' trademark glamour, you'll also find its in-house champagne on offer, as well as fondues, baked goods and smoothies.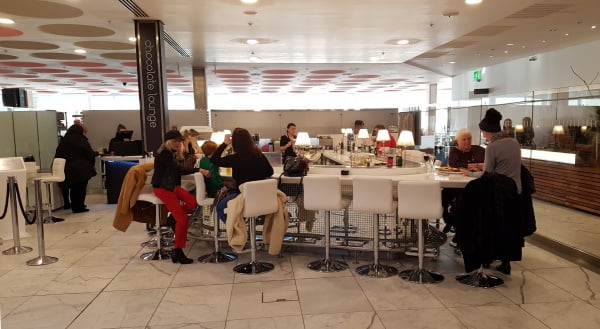 Considerit, 3 – 5a Sciennes
This plant-based café and confectioners is an ideal option for vegans, with the shop's owner, Claire, being a regular at Edinburgh's popular vegan festival. Remarkably, her plant-based range encompasses not only chocolate but also doughnuts and ice cream in a range of fun flavours. Find Considerit at 3 – 5a Sciennes from Tuesdays to Sundays.
Hotel Chocolat, 7A Frederick Street
The first Hotel Chocolat was established in North London in 2004 and its popularity was such that it has now grown to encompass over 100 shops, cafes and restaurants. Despite its name, the chain's only hotel is on a cocoa plantation in the Caribbean. The Edinburgh branch features a café as well as a boutique and ice cream parlour. You can therefore either purchase chocolates to take home for your loved one or make it a date and drop in together.
Now that you know the best chocolate-themed places in Edinburgh, why not go the extra mile for your loved one and book a Valentine's or anniversary getaway? Our self-catering properties are all ideally located in the city centre within walking distance of all the above. Their well-equipped kitchens would allow you to prepare romantic or celebratory meals between forays into the city. Moreover, they provide a cosy nesting ground upon your return. See below for a selection of our properties suitable for such occasions. For our full range, just check out our home page.
Sources
https://www.hotelchocolat.com/uk/engaged-ethics/our-people/Our-Story.html
http://www.multreeswalk.co.uk/
https://www.corochocolate.co.uk/about/https://food.list.co.uk/place/93401-considerit-edinburgh/
https://findit.scotsman.com/company/438788461113344
http://ef5e7f0f2d9ba366c072-dc4ba8bd295a3c3035a2eaa0fc98f6b0.r56.cf2.rackcdn.com/Chocolate%20Lounge%20Edinburgh%20Menu.pdf
https://www.harveynichols.com/restaurant/edinburgh-dining/chocolate-lounge/
Share