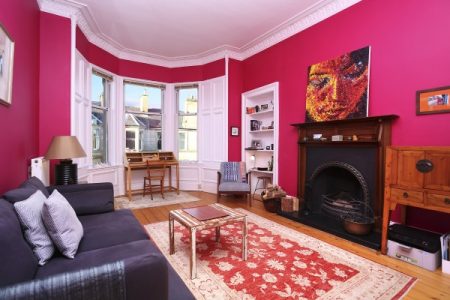 Availability
Book Now
Top-floor, one-bedroom apartment in a quiet street just off Raeburn Place in the Stockbridge area of the city. This lovely apartment is bright, spacious and colourfully decorated in warm shades making it feel welcoming and tranquil. It's a great place to spend time and a great place from which to explore the city. The area has a wealth of excellent restaurants, such as The Scran & Scallie 2 minutes' walk away, Taisteal, the Kilted Lobster, and Purselane to name but a few.
This is a traditional Edinburgh home built round 1890 with lots of original features.
The apartment has 1 bedroom with a standard double bed, walk-in shower, large well equipped kitchen and a spacious living room with views to the west looking over the street. The kitchen and bedroom look out over the mews properties in the lane below and catch the morning to mid-afternoon sun. The living room catches the late afternoon to early evening sun. It is on the 3rd floor above ground level and there is no lift. The common stair is bright and clean and the neighbourhood is friendly and welcoming.
Stockbridge has a good mix of local shops, lots of nice places for breakfast, lunch, dinner and coffee. The Sunday Market is a short walk from here and Princes Street is around 15 minutes' walk but there is a good bus service too. There are beautiful walks along the sides of the Water of Leith. Heading upstream through the Dean Village you'll find the Scottish National Gallery of Modern Art. Downstream, the Botanical Gardens are a short walk and they are stunning. You can also walk all the way to Leith where Britannia is moored but it will take a good 40-50 minutes.
There is no parking with the apartment but parking is free in the street over the weekend. The apartment doesn't have a TV but there is a good Wi-Fi connection.
Share
Facilities
Availability
Book Now
Rental Prices