Edinburgh Is Now! (guest blog)
Our thanks to our partners at Infinite Scotland for putting together this great blog for our guests. If you're looking for advice on itinerary planning both in Edinburgh and the rest of Scotland, Infinite Scotland have a passion and knowledge that ensures you will see the parts of Scotland that other tour operators cannot reach!
"Edinburgh is now? Really?"
Why yes! You have probably seen the photos on social media? The atmospheric Royal Mile at dusk, the colourful shop fronts of Victoria Street, the silhouettes of Calton Hill's many monuments – and not a soul to be seen. It is peaceful, and it is beautiful.
But Edinburgh without the crowds? Without a multitude of unwitting photobombers? It's hard to imagine, especially in summer. The good news is that, with the easing of travel restrictions around the UK, Edinburgh could be just the ticket!
Why Edinburgh?
In the past, no one would even have to ask the question.
Edinburgh: iconic capital of Scotland, top spot on millions of travel bucket lists. A magnetism that keeps drawing you back in.
An Old Town full of history and alleys and cobbles and characters; a "New" Town that, at over 250 years old, is anything but; classical architecture the envy of the Greeks; a castle dating back to the 12th century, perched on a volcano; a "mountain park" beside the Queen's official residence; a sea-front promenade; a burgeoning scene of artisanal food and drink producers (hmmm, cheese, ice cream, gin…), bagpipers on every street corner, parks and gardens filled with flowers and fun and fireworks and festivals and…..
Ah, hold on.
Festivals.
Edinburgh: home to the largest international arts festival in the world. Technically more than one, but all running (more-or-less) concurrently, from July through August. Including the infamous Edinburgh Fringe and Edinburgh Military Tattoo, they bring in a massive 3 million plus visitors every year, over only a few weeks of summer.
And thanks to Covid-19, not one of them will be taking place in 2020.
The knock-on impact on local business will be profound, and there are certainly those of us who will miss the intense, crazy buzz immensely. It will be back though!
And in the meantime?
In the meantime, Edinburgh will breathe. The parks will be filled with families and flowers. The streets will be open to pedestrians, not huge swaying masses clutching tickets for their next show, oblivious to the show that the city puts on for them, for free, every day of the year – if only they'd taken the time to stop, look around, look up, and take it all in.
And this year, for the first (and maybe the last) time, you too can come and experience something special, something unique – a summer in Edinburgh without the crowds.
Many attractions are opening their doors, but on ticketed entry – what can we do?
This is the fun part!
As things currently stand, traditional visitor attractions such as Edinburgh Castle, the Palace of Holyroodhouse, Royal Yacht Britannia, Edinburgh Zoo and our many art galleries and museums are all finding ways to open, though often with time-slotted, pre-booked visits only (and sometimes limited areas), so please check their websites before you turn up at the door.
Did you know, however, that an undergraduate student at Edinburgh University will live in the city for their entire four year degree without ever stepping foot inside Edinburgh Castle? Tradition has it that they will fail their final exams if they do.
Now if they can tough it out, so can you!
Happily there is so much more to Edinburgh than its indoors, paid attractions. In fact, probably more, relatively speaking, than in any other major city – so you've come to the right place.
To give you a little inspiration, here are a few starters.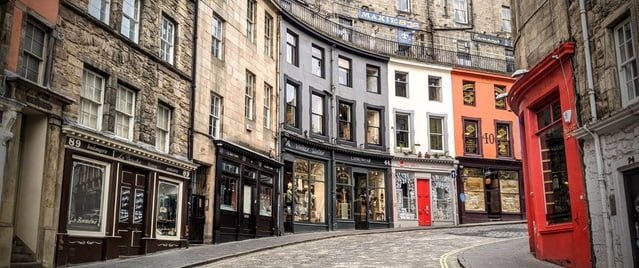 Step back in time
Un-peeling the layers of Edinburgh's history is a great game for all ages.
Take a picnic to the Meadows and imagine yourself in the echoing halls of the 1886 International Exhibition's great glass pavilion, modelled on London's own Great Exhibition – with 2.7 million visitors it would have dwarfed the earlier Edinburgh Festivals!
Next door Bruntsfield Links is the site of the oldest golf course in the world – bring your own clubs and you can still have a round of pitch & putt on its successor.
Back in the town centre, head up to the Castle Esplanade, free of the usual terracing set up for the Military Tattoo in the summer, and gaze over the expanse of the New Town to the north. As late as the mid-1700s, that was all just fields, leading down to the fishing villages on the coast. Hard to imagine, but if you look through half-closed eyes, you can almost see the Nor'Loch glistening in Princes Street Gardens down below… (before it became too fetid and was eventually drained!)
Across to your east rises the mini-mountain of Arthur's Seat. No-one knows exactly where it got its name, but it could come from "Ard na Said" or "Height of the Arrows" – why not take your own toy bow and arrow down to Holyrood Park and test your archery skills! Bonnie Prince Charlie's own Jacobite troops set up camp here in 1745.
Take a tour
If the call to "use your imagination" is a tricky one on your own, why not hire a guide? You probably would overseas, so why not learn about our own country and cast of slightly kooky characters? On a private tour you'll only hear the stories that interest you – and with no huge group of stragglers, social distancing is a doddle.
Discover what happened when an elephant lodged in an Old Town tenement, or what the irony is behind St David's Street sign. If photography is your thing, find your angle down the characterful closes (alleys) off the Royal Mile, or gaze at the New Town's classical architecture. Be reformed by the Reformation, or enlightened on the Enlightenment…
Think of it as a private history lesson, but totally geared towards you – and FUN!
As a guest of GreatBase, make the most of special discounts on Infinite Scotland
It's not all about the history
Edinburgh is full of sculptures of our furry friends. There are at least two badgers, some squirrels and owls, one bear, a multitude of dogs and horses, and more unicorns than you could ever imagine. No one ever said they had to be "real". The famous artist, Anthony Gormley, even put a metal man in a river. Yes, we know it's not an animal (well…) but seek him out.
In fact, we would love to hear how many animal sculptures you can find – send us a photo, photobombed by your own real (or toy!) pet friend.
Foodies or Shopaholics
Everyone thinks of whisky, shortbread and haggis… But Scotland is rightly famous for its seafood and game, cheeses and chutneys, traditional baking, soft fruits and wild foods – and yes, its gin! And Edinburgh is the best city to find them all in the same place. Take a DIY food tour, or book a private tour with a certified culinary guide who will lead you on a journey through Scotland's food and drink.
Now, more than ever, is the time to support our independent producers and suppliers. The good news is that, now that most of these have now re-opened, it is also the time when you will enjoy the best experience at our independent shops and foodie outlets.
Just think – no queues, no crowds, more time and space to engage with the owners.
Pop into tiny IJ Mellis on Victoria Street to learn about their Scottish cheeses and charcuterie before heading across the road into Bow Bar for a pint of Scottish ale over your cheese board. Or head further into the Grassmarket to choose from that day's fun and fabulous flavours of fresh ice cream at Mary's Milk Bar (she is usually there to help you too), and enjoy all of your wares at one of the benches in the attractive plaza, looking up at the magnificent silhouette of Edinburgh Castle – again, sans Tattoo terracing to spoil the view.
The same goes for any of our independent retail outlets. It's not all tartan and tweed, though even when it is, you can find some beauties to take home.
Gradually, all these shops, cafes, bars and restaurants will welcome you back. Guidelines are being put in place for your safety – just keep exploring, supporting – and enjoying!
Explore new areas
We know what it's like – you come to a new town, or even to a town you've visited multiple times, and you head straight for the centre. That's where the history is, that's where the shops are, that's where the people are.  Right?  Well yes, but now is your opportunity to explore further afield.
Leith, down at the port, is full of history of traders and sieges – and a few rather special independent cafes and artisanal food producers too. Check out East Coast Cured for award winning charcuterie or Williams & Johnson Coffee Roastery as you stroll around the historic wharfs.
At the other end of town, Bruntsfield and Morningside are bustling local communities where you will find a café culture, open spaces, some unique churches and graveyards (for that niche appeal) – and let's not forget Edward & Irwyn Chocolatiers, who use Scottish flavours such as juniper and Scots pine to amazing effect!
Go for a hike – or take a bike / Stretch your legs
After all of this café and chocolate chat, time to stretch the legs a little. Happily Edinburgh is famous for its outdoor spaces. First of all, try tracing the route of Flodden Wall that used to encircle the Old Town, or explore upmarket Stockbridge and picturesque Dean Village.
Then to the hills: Calton Hill and Holyrood Park (incorporating Arthur's Seat) are the best known, but on the south side is Blackford Hill with plenty of opportunities to get happily lost amongst its elderflower and gorse as you work your way up to the Observatory on the summit.
Over to the west is Corstorphine Hill – go for a stroll or a gentle morning run, and find yourself gazing over an extraordinary panorama of Edinburgh, whilst the zebras and gibbons of neighbouring Edinburgh Zoo wake up to their breakfast behind you.
If you'd rather a flatter walk or cycle, one of our favourite spots is Cramond, on the Firth of Forth. You could even discover the woods along the coast to the pretty village of South Queensferry, right underneath the iconic Forth Bridge. Take a bus or a train back (or even a bicycle) – or simply retrace your steps for that extra scoop of ice cream at the Boardwalk Beach Club!
Go for a day trip
At this stage we know we could go on forever. Edinburgh is a superb base to explore the wider area, especially if you have a car – although there are some public transport options too.
The Pentland Hills: This regional park, bordering Edinburgh to the south, is a long-standing favourite of Edinburgh residents. With walking trails through and over the summits, make sure you take a map, warm clothes – and a picnic! The 360o views are superb, and dipping your toe in one of the reservoirs is one of life's joys.
Jupiter Artland: Only a stone's throw from the official city limits, a wonderful open space of sculpture and installation from some of the world's top artists. Now open for pre-booked tickets, it is an outdoor experience to be explored.
East Lothian: A whole region to the east of Edinburgh, its gems are scattered along the coastline. Take a drive to Yellowcraigs Beach, explore the pretty coastal towns of North Berwick and Gullane, and once it re-opens, visit the ruins of spectacular Tantallon Castle – outdoors too, so put your Covid-concerned mind at ease!
Roslin Glen: More famous for the nearby Rosslyn Chapel (a breath-taking site even before the "Da Vinci Code" catapulted it into the limelight), Roslin Glen is a magical woodland park of hidden paths and treasures. Find Wallace's Cave or the Gunpowder Mill and step back in time… again…
Peebles: For those looking to let off steam, just under an hour's drive south of Edinburgh is Glentress, a mountain biker's paradise. With walking trails, a café and even a "Go Ape" it is a full day out for all the family. Re-opening in stages, keep an eye on their website for latest updates.
Fife: "The glorious kingdom" visible across the Firth of Forth from Edinburgh, and easily accessible from the city. Explore the pretty coastal towns of St Monans, Anstruther and Elie with their traditional red tiled roofs and fishing harbours, gaze up at the soaring ruins of St Andrews Cathedral, absorb the atmospheric surroundings of Culross conservation village without the coach-loads of Outlander fans… And don't forget your "carry-outs": fish & chips, lobster on the pier – and of course, ice cream!
Infinite Scotland are always on hand to chat through any of your options – or if you'd rather take the stress out of the day, we can offer fully tailored private tours – driving, walking, eating, exploring, discovering…
Is it safe?
A very valid question. This is an urban area, after all, usually meaning a more concentrated population, fewer outdoor eating options, accommodation in busy hotels, travel on public transport.
Why not just bypass Edinburgh and head straight for the hills?
Well you could. Scotland is full of wide open spaces – and although we rather suspect that everyone else will have the same idea this summer (!) there is plenty of wonderful landscape to go around. Infinite Scotland spend much of our time, after all, arranging tours which take our guests into Scotland's Highlands and Islands, finding the hidden gems, the quiet beauty spots, the local stories and characters and experiences that will create memories to last a lifetime.
We never, ever bypass Edinburgh though! Not only that, but we encourage people to come back to the city time after time. It never gets old (metaphorically speaking…), there is always more to discover, and it is, in our humble opinion, the most beautiful city in the world.
One of its many joys is that it is also compact. Bring a comfy pair of walking shoes and you don't have to go near a bus, tram or taxi all day.
There are also plenty of wide open spaces – those 18th Century town planners knew what they were doing, whilst in the 21st Century, the Council has been working on making many of the streets semi-or fully pedestrianised, with new walking and cycling pathways being introduced.
That, plus the absence of the Edinburgh Festival, means that in the summer of 2020 you will be hard-pressed to find a crowd at all!
As for eating and accommodation, the gorgeous Greatbase properties are a home from home – and you can order in your own special delivery of food from local producers through their partners at Edinburgh Food Delivery, so you don't even have to visit a supermarket. You can cater for yourselves, hassle-free, whilst many top-notch restaurants in the city have also turned to the delivery business. Examples include Wedgwood and Aizle – both of which you'd give your right arm for a prime table in "normal" times, but now you can place your order and eat at home!
And then, of course, you can always pop down to the seafront for some "traditional" fish'n'chips on the shore. Portobello promenade and the Fishmarket in Newhaven are two great options for a relaxed supper on one of our long summer's evenings.
The mention of which brings me to…
…A special final word for the golfers
Scotland, the "Home of Golf", glorifies in the long days and short nights of a northern summer. You could just take a pleasant evening stroll along the Water of Dean or through Holyrood Park. But if you have been itching to get the clubs out then Scotland, with its tradition of affordable courses in every town and village, is the place to be. There are a number of courses in Edinburgh itself, and a short drive away.
However, with fewer international visitors to our shores this summer, getting a tee-time on one of our more famous and exclusive courses could finally become a real possibility. For example, at just over an hour's drive from Edinburgh, St Andrews is currently operating a phased reopening of its courses, including the famous Old Course, in line with government guidelines. So keep an eye on their website, as you could just be in luck!
Contact Infinite Scotland for help in planning your visit to Edinburgh (and don't forget to mention Greatbase to get your discount!).
Our thanks to the team at Infinite Scotland for putting this fantastic blog together for our guests.