Time for a Change of Scenery (almost)
Most of us are starting to fantasize about what will be the first thing we do when lockdown restrictions are lifted. Hug your family first, for sure! But then you'll probably be looking forward to a complete change of scenery – a city break, or a longer exploration of a part of the world that you don't yet know well.
Here in Edinburgh we can guarantee you a warm welcome to a beautiful city that is chomping at the bit to get back to its usual cultural vibrancy. Until then, the quieter streets give us a rare opportunity to stand back and admire the stunning architecture, parks and gardens without the traffic, hustle and bustle.
If you're a regular to Edinburgh, this is your chance to see it with fresh eyes, unfettered by the usual summer crowds of tourists.
It's the details that count ..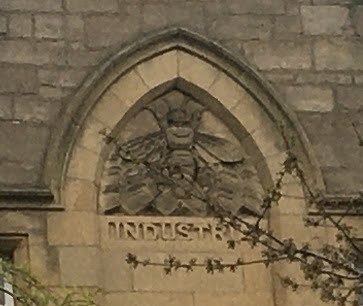 Our daily walks have given us the chance to notice details that even as locals, we hadn't spotted before from crowded pavements. We've seen busy bees carved in the stonework above the word 'industry' at Fettes College (is anything more industrious than a bee in springtime?), curious Masonic symbols above the entranceway to The Lodge of Edinburgh on Thistle Street and simply beautiful carved numbers above doorways on Victoria Street, to mention just a few. What will you spot?
And if you've never visited Edinburgh before – this just might be the perfect time to see it! Calmer and more peaceful than ever before, the city truly has never looked so gorgeous.
Edinburgh as a first (or last) stop on a Scottish odyssey …
Perhaps now is the time include Edinburgh as a gateway to a longer exploration of the rest of Scotland – her bonny lochs and mountains, beautiful glens and burns. If you need help planning a longer itinerary, we'll put you in touch with the best guides and route-planners in the business to create a perfect getaway, far from the crowds.

Come and be a part of the re-awakening of Edinburgh and help the city get back on its feet, just by being here with us. Our lovely apartments in the City are ready and waiting to welcome and comfort you.

Haste ye back!