The 10 Most Romantic Restaurants in Edinburgh For Celebrations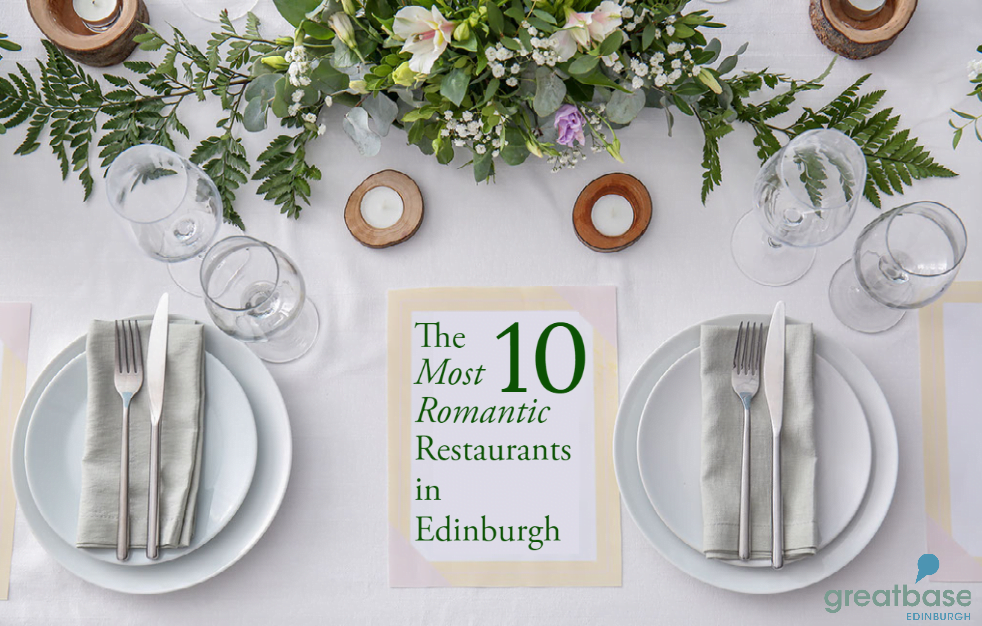 Planning a romantic getaway to Scotland? Here are the 10 most romantic restaurants in Edinburgh for celebrations. Whether you're making a toast to an important anniversary or taking a fun city break, the Scottish capital has a variety of options to make your trip one to remember.
From cozy candlelit Scottish cuisine to French restaurants and fine dining, there are plenty of remarkable places to celebrate special occasions such as birthdays, date nights, anniversaries, and Valentine's Days in Edinburgh, Scotland.
Elegant and Romantic Dinner with View in Edinburgh
The Lookout by Gardener's Cottage
Perched atop Calton Hill, the floor-to-ceiling windows at The Lookout provide absolutely stunning views of the city skyline and the Firth of Forth. Out of all the most romantic restaurants in Edinburgh, the view here can't be beat.
The menu showcases natural flavors and seasonal ingredients such as North Berwick crab, Isle of Gigha Halibut, and Perthshire roe deer served with plums, pumpkin, dandelion, and winter chanterelle.

Open Thursday & Friday 12:00 – 10:00
Saturday & Sunday 10:00 – 10:00
38 Calton Hill, Edinburgh EH7 5A
The restaurant accepts online reservations only.
Where to stay: Take in Edinburgh's iconic architecture on the mere 10 minute walk to The Lookout from our Royal Mile Mansions holiday apartment in Edinburgh Old Town. The most famous street – Royal Mile – is just a minute walk from the Royal Mile Mansion.
Chaophraya
The glass walls of this sleek rooftop restaurant in Edinburgh's New Town offer excellent views of Edinburgh Castle, George Street, and Charlotte Square.
Inspired by Thai heritage and family culture, the extensive food and drinks menus of Chaophraya encompass a colourful and diverse variety of flavors from across Thailand. Special dishes include tamarind roast duck and lotus rice with marinated roast pork, lotus seeds, and mushroom, wrapped in a crispy lotus leaf.

Open every day 12:00 – 12:00
4th Floor, 33 Castle St, Edinburgh, EH2 3DN
0131 634 0023
edinburgh@chaophraya.co.uk

Where to stay: Want to book a holiday accommodation with private parking in Edinburgh? Drop off your shopping bags and park your car the private garage at South Charlotte Street before dinner – your reservation at Chaophraya is only one block away.
Romantic French Restaurants in Edinburgh
Café St Honoré
Venture down the cobbled lanes of Thistle Street to visit a little piece of Paris in Edinburgh. With smart, wood-paneled brasserie decor, Café St Honoré serves fresh Scottish produce cooked in the authentic French style.
Café classics include confit Kyle Muir duck leg and vanilla crème brûlée with Armagnac prunes and shortbread.

Open Thursday to Monday 12:00 – 2:00, 5:00 – 9:30
34 North West Thistle Street Lane, Edinburgh, EH2 1EA
eat@cafesthonore.com

Where to stay: Our elegant Heriot Row self-catering apartment is just a five minute walk away from Thistle Street in the Edinburgh New Town.
Chez Jules
An authentic restaurant with classic French cooking and a romantic bistro atmosphere. The immensely popular 'le fameux' steak frites are served medium rare for the cheerful price of £9.90. This is one of the most romantic restaurants in Edinburgh with a casual but intimate atmosphere. Chez Jules also provides great value for groups, with the special two course lunch menu running less than £10.
Open Sunday to Thursday 12:00 – 11:00
Friday to Saturday 12:00 – 12:00
109 Hanover St, Edinburgh EH2 1DJ
info@chezjulesbistro.com or 0131-2266992 to book

Where to stay: Our Edinburgh holiday flats – Drummond Place and Dundas Apartment with private outdoor space is an excellent base for exploring Edinburgh's New Town.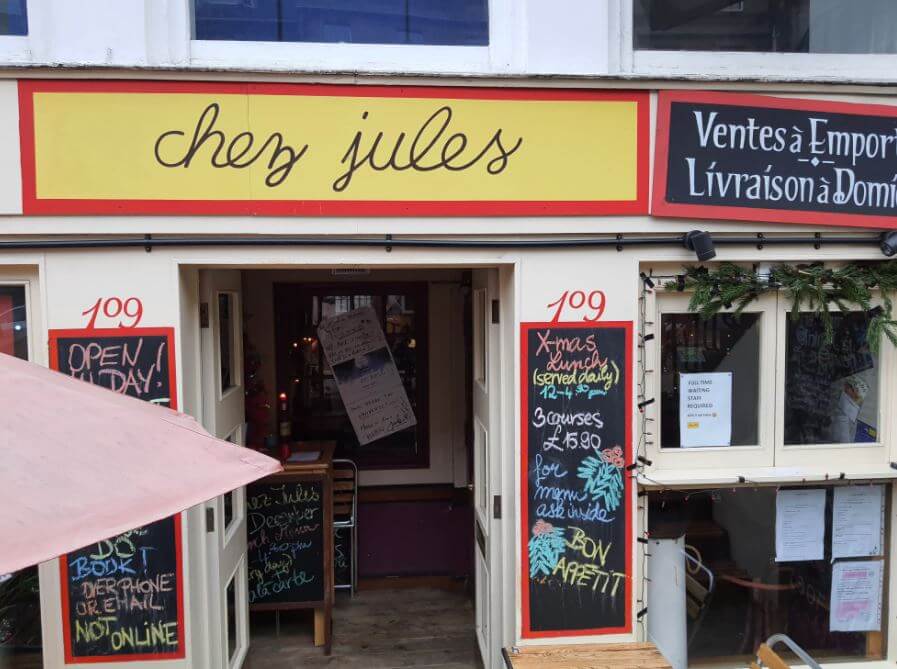 Glamourous Fine Dining
Rhubarb Restaurant at Prestonfield House
Share a chateaubriand of Angus beef with your other half in the opulently decorated Regency rooms of the historical Prestonfield House. Rhubarb is not only one of the most romantic restaurants in Edinburgh, but also one of the grandest. With local Scottish produce and wines from around the globe, Rhubarb delivers 'all of the gourmet delights, magic, drama and romance you would expect from the creator of the Witchery by the Castle.'
Open every day 12:00 – 10:00
Prestonfield House, Priestfield Rd, Edinburgh, EH16 5UT
+44 131 225 7800
reservations@prestonfield.com

Where to stay: Visit Rhubarb at Prestonfield House from our dog-friendly Edinburgh self catering cottage at Minto Street.
Dean Banks at The Pompadour
The Pompadour is one of the grandest dining rooms in Edinburgh. Named after Madame Pompadour, the "cerebral" mistress of Louis XV, the restaurant is located within the famous five-star Caledonian hotel, with tables that look up to Edinburgh Castle.
Masterchef finalist Dean Banks serves an innovative, creative, and stylish tasting menu with Asian influences.
Open Thursday, Friday & Sunday 5:00 – 11:00
Friday and Saturday 12:00 – 4:00, 5:00 – 11:00
Princes Street Waldorf Astoria Edinburgh – The Caledonian, Edinburgh EH1 2AB
+44 777 045 1668
Where to stay: Our spacious Cambridge Street Edinburgh holiday apartment is steps away from The Pompadour, as well as landmarks such as Edinburgh Castle, Usher Hall, and the Traverse Theatre.
Candlelit Cuisine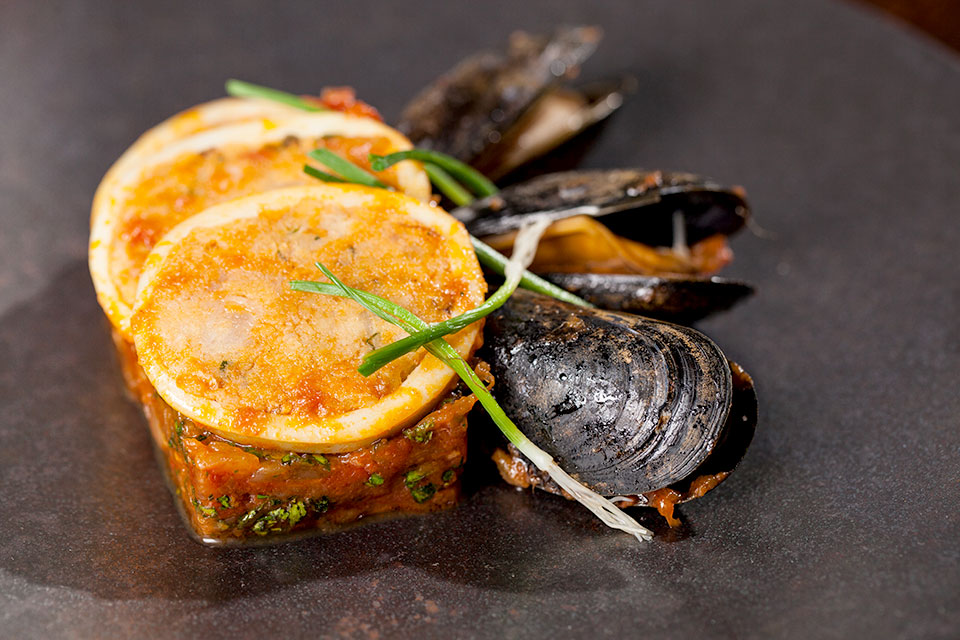 Purslane Restaurant
Tucked away in Stockbridge's charming St Stephen Street, Purslane is a cosy and intimate hidden gem that's perfect for special anniversaries and romantic dates. The special location makes it one of the most romantic restaurants in Edinburgh. Opt for a 5 or 7 course tasting menu and enjoy modern updates on classic French cooking, utilizing the freshest Scottish produce.
Open Wednesday to Sunday 12:00 – 1:30
Wednesday to Saturday 6:00 – 9:00
33A St Stephen St, Stockbridge, Edinburgh EH3 5AH
0131 226 3500

Where to stay: Take a short, delightful walk along Circus Lane to Purslane.
The Stockbridge Restaurant
Decorated with fresh flowers and fairy lights, the warm ambience of the Stockbridge Restaurant on St Stephen Street makes it a wonderfully romantic environment and the ideal place for an elegant celebration. The kitchen serves fresh, creative and classic dishes such as wild mushroom wellington with chutney and truffle puree.

Open Wednesday to Thursday 5:30 – 9:00
Friday & Saturday 5:30 – 9:30
54 St Stephen St, Stockbridge, Edinburgh EH3 5AL
+44 131 226 6766

Where to stay: Our Royal Circus apartment with patio and Georgian Cumberland Street holiday apartment is just a stone's throw away.
Great for Group Celebrations
Fazenda Edinburgh
With continuous tableside service offering fine grilled meats and sumptuous Brazilian and Argentinian side dishes, there's something to please everyone at Fazenda.
With a stylish and modern dining room located in the center of town at George Street, Fazenda is a great place to celebrate special occasions. Enjoy an authentic South American rodizio barbecue experience with a special date or a group of family and friends.

Open Monday to Friday 12:00 – 3:00, 4:30 – 10:00
Saturday & Sunday 11:30 – 3:00, 4:30 – 10:00
102 George Street, Edinburgh EH2 3DF
0131 215 1234
Website.
Where to stay: Our nearby Jamaica Lane apartment sleeps five and includes a garage.
Divino Enoteca Italian Restaurant & Wine Bar
As part of a third-generation Italian family restaurant business, Divino Enoteca provides an expansive wine list and genuine Italian cuisine.
The menu utilizes local produce as well as fine Italian ingredients carrying DOP and IGP certifications, including Grana Padano Parmigiana, Mozzarella di Bufala Campana, Gragnano wheat, and Corte Buona ham. Available for group bookings online.

Open every day from 5:00 – 10:00
5 Merchant St.
EH1 2QD
0131 225 1770
dine@divinoedinburgh.com

Where to stay: Enjoy a walk down Castlehill and quaint, colourful Victoria Street on the way to Divino Enoteca from our grand and luxury apartments in Edinburgh next to the Edinburgh Castle – Ramsay Gardens – Castle Views and Ramsay Garden apartment