Where to Go Walking in Edinburgh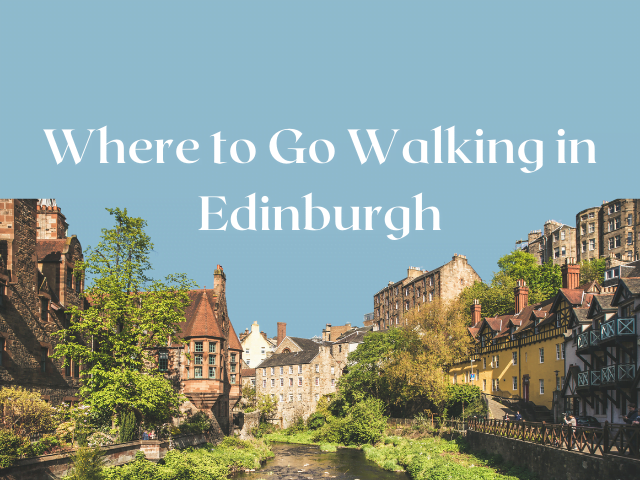 If you're looking for a hassle-free (not to mention literally free!), healthy and memorable way to explore Edinburgh, taking a stroll through the city is an ideal option. Edinburgh has several scenic routes to cultivate an easeful frame of mind among visitors and locals alike.
The Water of Leith Walkway
The Water of Leith is Edinburgh's main river, issuing from the Pentland Hills and running over 22 miles to the Shore at Leith, where it flows into the Firth of Forth. Its walkway was created in 1983 and extends for 12 miles from Balerno to Leith. Designated an Urban Wildlife Site owing to its wide variety of birds and fish (and even otters!), the walkway offers you a backdrop of birdsong along its banks lined with ancient woodland. Its central section passes some of the city's principal attractions including Murrayfield Stadium, the Scottish National Gallery of Modern Art, Dean Village, Stockbridge and the Royal Botanic Garden.
Dean Village
Dean Village (photo above) makes for an idyllic retreat from the bustle of the epicentre and is as photogenic as any picture postcard, so will make a great backdrop for some holiday photos along your stroll. The village marks the site of former grain milling and for 800 years its mills were driven by the Water of Leith's current. It was a separate village prior to its amalgamation into Edinburgh in the 19th century. Keep your eye out for the baker's paddles in the stonework of the buildings and bridge, harking back to its mill days.
St Bernard's Well
Between Dean Village and Stockbridge you'll pass St Bernard's Well, a Greco-Roman/neo-classical structure containing a marble statue of the Greek Goddess of health, Hygieia, within Corinthian columns. The well was modelled on the Temple of Vesta at Tivoli in Italy and overlies a spring discovered in 1760 which was prized for its healthful properties. The well itself was installed over 230 years ago and named after St Bernard of Clairvaux, who was rumoured to have lived in a nearby cave. It was designed by celebrated Edinburgh painter Alex Nasmyth in 1789, with Hygieia added in 1884. St Bernard's Well underwent restoration in 2013 and is still looking very healthy!
The Royal Botanic Garden Edinburgh
Edinburgh's acclaimed Royal Botanic Garden began as a small physic garden (a garden for medicinal plants) at Holyrood Park in 1670. A second site was formed in 1676 on grounds leased from Trinity Hospital where today you'll find Waverley Station. The garden relocated again in 1763 to a 'green field' location near Leith before finding its current location in Inverleith in 1820. Today the garden encompasses 116 hectares playing host to 13,500 plant species. The attraction welcomes over one million visitors each year. The grounds were opened to the public in 1881.
Princes Street Gardens
These formerly private gardens were inaugurated in 1820 following the draining of the Nor Loch, which once protected Edinburgh Castle. The gardens were opened to the public in 1851. In West Princes Street Gardens you'll find The Ross Fountain, which was installed in 1872 and the cast iron structure was restored in 2018 at a cost of £2 million. In East Princes Street Gardens you'll find the Scott Monument dedicated to the Scottish writer Sir Walter Scott. For a fare you can access its spiral staircases leading to a series of viewing platforms with stunning views across the city. There are 288 steps to its highest platform. During the summer months this is a lovely park for a stroll with the dramatic backdrop of the Castle mount and over Christmas and New Year it is home to a bustling winter market.