The 6 Best Restaurants for Scottish Dining in Edinburgh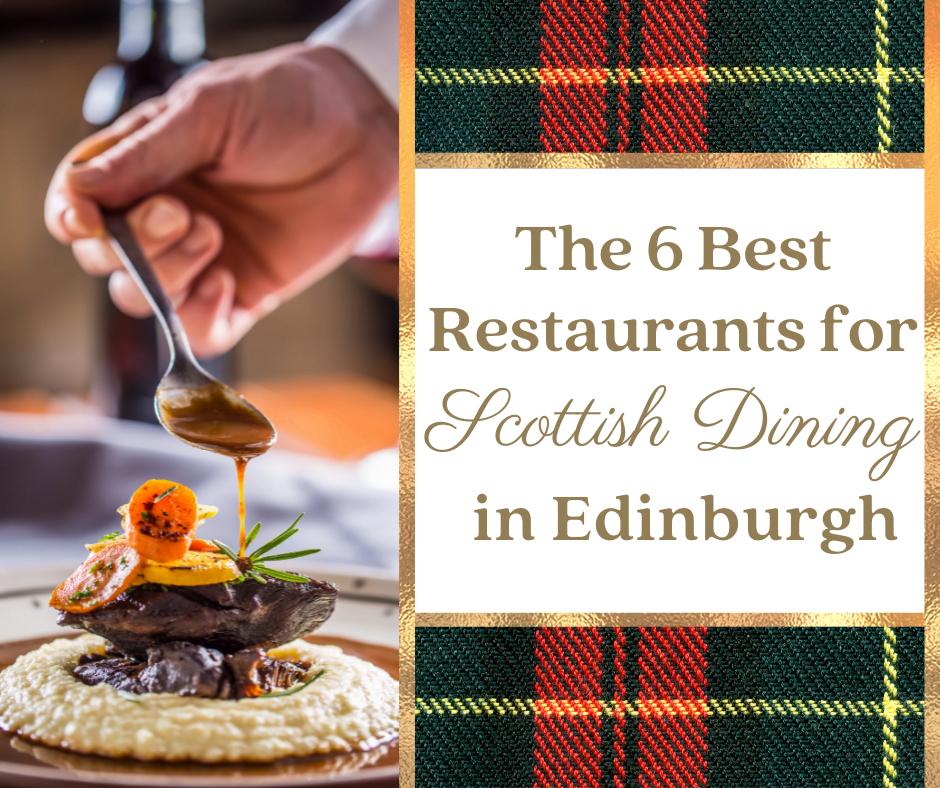 Scotland's capital is THE place to experience the very best in traditional Scottish cuisine with a modern twist! Here are our top 6 restaurants for this summer … and there's not a deep-fried Mars Bar in sight!
1. The Witchery, Royal Mile
Described as Edinburgh's best kept secret, The Witchery is something of an institution. This extraordinary restaurant is a few yards from Edinburgh Castle's entrance and is positively steeped in Old Town history and atmosphere. Located in a sixteenth-century merchant's house, the rich baroque surroundings of the Witchery's original dining room make this one of the City's most memorable venues.
Choose from the 16th-century oak-panelled and candlelit Witchery dining room or the elegant Secret Garden room with its hand-painted ceiling and secluded terrace for dining or cocktails. An award-winning a la carte menu is served all day. Alongside the Scottish lobster, langoustines, beef, lamb and game, you'll also see the Witchery's legendary Angus beef steak tartare and even some haggis.
Where to stay nearby: You can't stay much closer to the Witchery than our Ramsay Garden holiday apartment that sleeps up to 8 in glorious luxury. If you're just a couple, then the smaller, contemporary Blackie apartment is ideal. Both also enjoy fantastic views out to the North of the City and the Firth of Forth.
2. Harvey Nichols Forth Floor, St Andrew's Square
By way of a complete contrast, head to St Andrew's Square and up to the Forth (as in, the Forth Estuary) Floor of Harvey Nichols for some of the best views of the City, while enjoying top notch Scottish produce including fabulous I.J. Mellis cheeses and beautiful seafood. The Brasserie offers fine dining in a modern restaurant that prides itself on attention to detail. The Bar serves up positively outrageously good cocktails too which can be enjoyed on the outside terrace overlooking the city skyline. This is an exciting venue and if nothing else, will offer respite from a tough session of retail therapy in store!
Where to stay nearby: Just the 2 of you? Our Dublin Studio is compact and bijoux, with ingenious design features ensuring that this is nevertheless a luxury stay. By total contrast, expansive Drummond Place sleeps up to 6 in this beautiful Georgian town house.
3. The Lookout, Calton Hill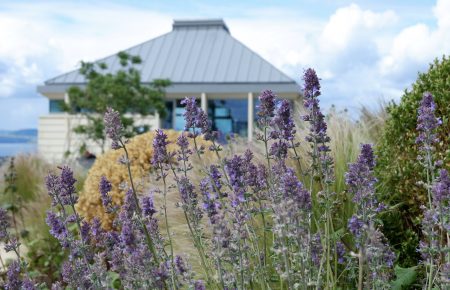 Calton Hill is one of the 7 hills of Edinburgh and home to the City's historic Observatory. This complex has been recently remodelled including the building of The Lookout by Gardener's Cottage. This beautifully designed contemporary restaurant is cantilevered and has floor to ceiling glass windows offering panoramic views across Edinburgh and the Firth of Forth.
The food is locally sourced produce, cooked with flair and plenty of innovative takes on Scottish dishes. You can even pick up a picnic of treat to enjoy on Calton Hill, or nearby Holyrood Park/Arthur's Seat. Picnic classics including, cheese, wild venison & prune terrine, Gardener's Cottage cure smoked salmon, salads, olives, anchovies & bread, sparkling water & sweet treats.
Where to stay nearby: Albany Street is an impeccably appointed first floor apartment in a Georgian Town House just strolling distance from The Lookout and sleeps 4.
4. Wedgewood
Committed to serving superb quality food using the very best Scottish ingredients, in a relaxed atmosphere, Wedgewood on the Royal Mile is another of Edinburgh's restaurants that is firmly established as one of the best fine dining experiences in the city. Their menu changes every season (so 4 times a year), and responds daily to make the most of the freshest and best ingredients.
We're particularly excited about their 'wee tour of Scotland' tasting menu this summer! Dishes include Roe deer, puffed grains, venison haggis, cauliflower, redcurrant jus, and Douglas fir cured sea trout, sorrel, granny smith, oyster, cucumber. Yum! With a wine menu to match, Wedgewood promises a truly memorable dining experience. And with a take away menu available, you can even enjoy your dinner in your Greatbase apartment if you prefer!
Where to stay nearby: All our Old Town properties are ideally located for visiting Wedgewood. Our Old Town apartment is situated in a quiet courtyard just off Edinburgh's historic Royal Mile and a short stroll to Wedgewood. If you're looking for something more grand, then why not try Royal Mile Mansion for a bit of luxury?
5. The Gardener's Cottage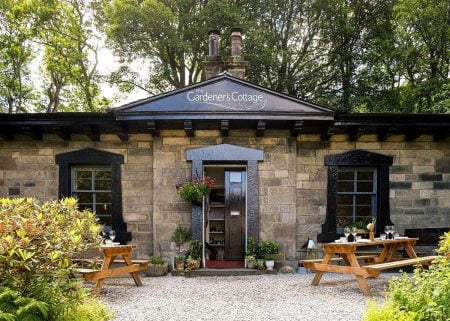 The sister-restaurant to the Lookout (see above), The Gardener's Cottage is an innovative restaurant serving beautiful meals created from the very best ingredients, sourced from the best local producers. With a constantly changing menu, the team work with seasonal ingredients, flair and creativity, in a relaxed setting.
Dishes could include cured seat trout with fennel and orange, heritage tomato with dill seed ricotta and nasturtium oil or duck with asparagus, rhubarb and wild garlic. Is you mouth watering? It should be! And we haven't even started on the puddings …!
Where to stay nearby: Perfect for larger groups, nearby Antigua Street sleeps up to 8 in 4 bedrooms and is our closest apartment to this restaurant. And for a smaller group of up to 4, why not try Albany Lane – a lovely mews property tucked away just a short walk from The Gardener's Cottage.
6. Scran & Scallie
The Scran & Scallie in popular Stockbridge is an award-winning gastro pub and the proud holder of a Michelin Guide Bib Gourmand 2019. It offers relaxed dining with menus showcasing great Scottish food – or 'scran' – and a range of traditionally brewed ales and artisan beers served in a cosy setting suitable for the whole family. So if you want something more relaxed and informal, Classic signature dishes such as Ham, Egg & Chips, Fish pie, Fish & Chips and Sunday Roast are served alongside some seasonal favourites such as Asparagus & Roasted salmon and Eton mess to name a few. Even the interior decor is layed-back, with modern Scottish twists and a hint of Scandinavian influence.
Where to stay nearby: Dean Park Mews – a bright and sunny, modern 2 bed apartment that sleeps 4, with private parking: the perfect choice for those seeking a quiet base within walking distance of the city centre. Or try Cheyne Street self-catering apartment to sleep 6 only a couple of minutes stroll from the Scran & Scallie.
So that's our top 6 … but it was tough to keen it down to so few. With restaurants throughout Edinburgh selling superb food from all over the world, this is just a small sample of those with a particular focus on Scottish dishes and produce. Whether you choose to eat in (or on a verandah), or opt for one of the take out menus, you're assured a true taste of Scotland on your visit to Edinburgh