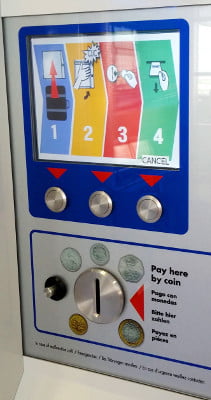 Our guests are welcome to drop off any luggage at our office (24 St Stephen Street; zoom out or centre map below) from midday on Monday to Friday; please confirm your drop-off time together with your arrival time and notify us of any changes so we can ensure someone is here to receive your belongings. If it isn't convenient for you to come back, then there are a few other options. First and foremost, we recommend Edinburgh Bus Station as the rates are cheaper than at Waverley Station (note that Haymarket Station doesn't have left luggage facilities).
If you only need to store a single item for a short period, left luggage at Waverley, run by the Excess Baggage Company, may be your best option, as you can do so for up to three hours for a £6 fee (quotes for higher volumes or longer durations are available here). For most visitors, however, the five-minute walk to Edinburgh Bus Station will prove more economic, as they offer the following locker types and fares (valid as of December 2017):
Edinburgh Bus Station pay luggage lockers rates
| | |
| --- | --- |
| Small | £5 |
| Medium | £6.50 |
| Large | £8 |
| Small (extra wide) | £8 |
| Large (extra wide) | £10 |
These rates allow you access to your locker for up to 12 hours, after which the fares are reinstated for a further 12-hour rental, and so on. The lockers can't be reserved in advance of your arrival but you can arrange to hire them for over 12 hours by speaking with the security staff at the station.
Here's a gallery showing the capacity of each of the different locker types:
For the opening hours and full breakdown of facilities at Edinburgh Bus Station, click this link.
If you are visiting Edinburgh as part of a longer tour and have excess baggage, you'd be best to take advantage of Edinburgh Airport's Luggage-Point Left Luggage service, a detailed breakdown of which can be found here.
Share